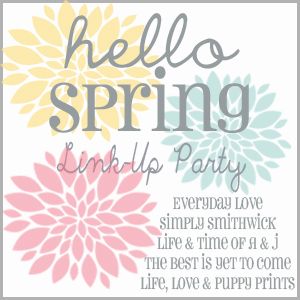 Today I am linking up with some sweet blog friends for their
Spring Link Up
.
We are supposed to write about our Spring Bucket List.
I LOVE everything about Spring.
Here are some things I really looking forward to:
(1)
Family Birthday Celebrations
Both sides of our family have a ton of March/April birthdays.
Its always fun to get everyone together!
(2)
Easter Egg Hunts
Between family hunts, neighborhood hunts, and our church hunt Reagan should be a pro!
(3)
Dying Eggs
I completely ran out of time to do it last year.
But Reagan is super excited to do it again this year!
(Reagan-2 years old)
(4)
Picnics in the Park
We love enjoying the nice weather (before it gets too hot) as a family outdoors.
(5)
Enjoying the Backyard
We rearranged some of the patio furniture and we've really been enjoying time outside.
(6)
Reagan's 4th Birthday Party
Reagan's birthday is just a few weeks away.
I can't believe my baby will be 4!
Reagan at his 3rd birthday party
What are you looking forward to this Spring?