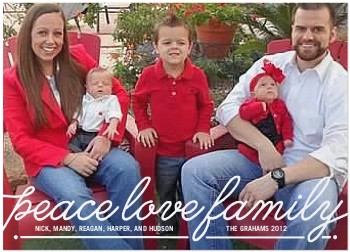 I just LOVE giving and getting Christmas cards each yet!
Here is a picture of our Christmas card from Shutterfly this year.
You wouldn't believe how many pictures we took and this was the closest to perfect we could get. Between Reagan's odd smiles, my hair in my face, Hudson's and Nick's eyes closed, and Harper staring off into outer space - this was our best.
Merry Christmas to you and yours